RD Choice - Starkist® Chunk Light Tuna
Written by Andrew Akhaphong, Mackenthun's Fine Foods Registered & Licensed Dietitian
Need something easy for Lent this year? Choose Starkist® Chunk Light Tuna as an easy non-meat option for your meals! It is your Dietitian's Choice this week for $0.79 per 5 oz cans from February 24th thru March 3rd.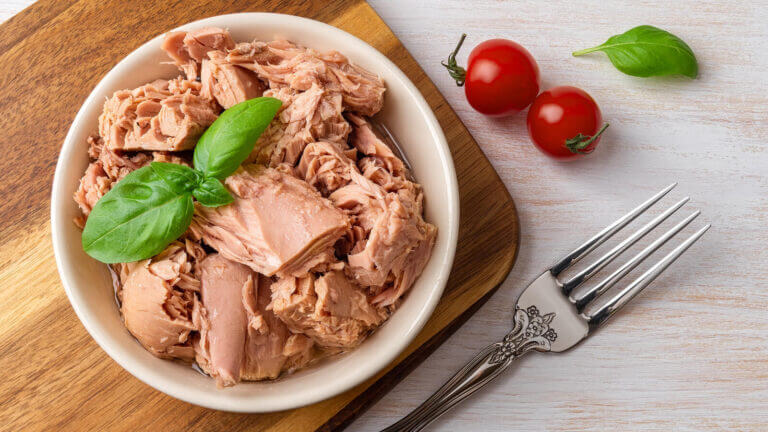 About Canned Tuna
According to Food Source Information, canned tuna is one of the most consumed foods globally with approximately 70 countries who depend on the tuna industry. The largest consumer of canned tuna are the European Union, the United States, and Japan.
There are five species of tuna that make up the commercial market: skipjack, albacore, yellowfin, bigeye, and bluefin. For those who are familiar with the term "ahi", ahi is a Hawaiian word that refers to the specifies of yellowfin and bigeye. 
Of these varieties, skipjack and albacore tuna is what mostly is used for the canned products while the latter is for sushi, sashimi, and steaks.
When purchasing canned tuna, you may have noticed different terminologies on the products.
The term, "chunk" refers to smaller pieces of tuna meat that varies in size and flakes easily while "solid" refers to larger pieces of tuna meat that is difficult to flake. 
In addition, you may also notice "light meat tuna" and "white meat tuna". Light meat tuna refers to meat from skipjack while the latter refers to albacore. Often times, the canned products will specifiy what species of tuna the meat came from. 
Nutrition Benefits
Canned foods often receive negative connotations about being unhealthy; however, canned foods can definitely fit in any lifestyle.
Due to the processing of canned foods, canned foods are considered low-acid; this, canned tuna is safe for individuals who have issues with acid reflus, or GERD.
Tuna is considered a fatty fish which means that it has higher levels of omega-3 fatty acids compared to leaner fish like cod or tilapia. The omega-3 fatty acids that fatty fish like tuna are called DHA and EPA which are found only in fatty fish. The majority of the population obtain their omega-3 fatty acids from plant sources like walnuts, hemp, or olive oil which is in the form of ALA; however, the body still needs to metabolize ALA into DHA and EPA to use it. The more steps needed to metabolize ALA, the fewer available DHA and EPA we actually get. 
Omega-3 fatty acids are considered essential fatty acids meaning we are required to get it from the diet as our body cannot make its own. Omega-3 fatty acids are essential for brain and neurodevelopment, healthy blood vessels, decrease inflammation, support eye health, lower cholesterol levels, and reduce the risk for heart disease and dementia.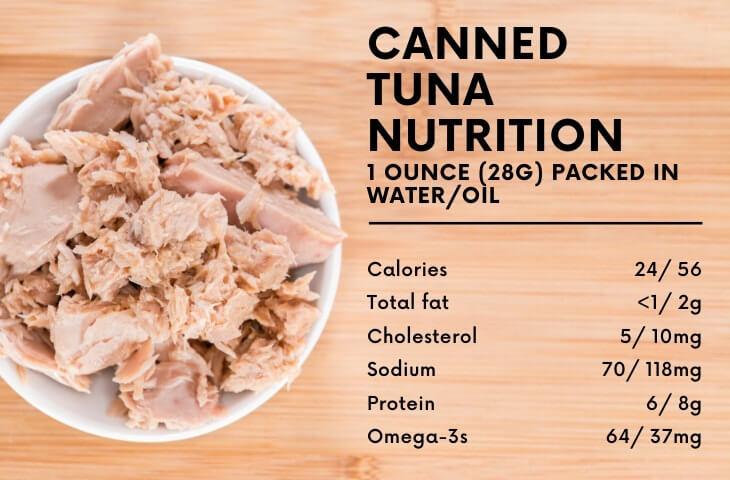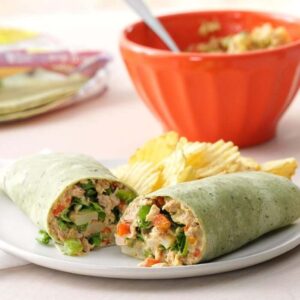 Cruncy Tuna Wrap
By Taste of Home
Ingredients
 

1 can (5  ounces) light tuna in water
1/4 cup finely chopped celery
1/4 cup chopped green onions
1/4 cup sliced water chestnuts, chopped
3 tablespoons chopped sweet red pepper
2 tablespoons reduced-fat mayonnaise
2 teaspoons prepared mustard
2 spinach tortillas (8 inches), room temperature
1 cup shredded lettuce
Directions
In a small bowl, mix the first 7 ingredients until blended. Spread over tortillas; sprinkle with lettuce. Roll up tightly like a burrito.