Guest Writing - Paige Jensen, Dietetic Intern, CentraCare St. Cloud Hospital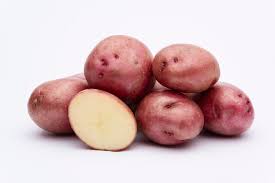 We are starch raving mad about these great deals we have on red potatoes!
Your Dietitian's Choice this week is $2.99 per 3 pound bag from March 25th to March 30th.
Starchy versus Waxy Potatoes
There are two different types of potatoes. There are starchy potatoes and waxy potatoes. Starchy potatoes are low in moisture and sugar levels but high in starch content. Starchy potatoes consist of Russet, Idaho, and Yukon gold potatoes. These potatoes are best used for baking, mashed, fried, or roasted. While waxy potatoes of the exact opposite. Waxy potatoes are best used for salads or casseroles. This is because they hold their shape with being cooked. Waxy potatoes consist of new potatoes, fingerling, and of course, red potatoes.
Red potatoes originate from Peru but are now grown locally in the Minnesota/North Dakota boarder region. The Red River Valley region produces over 400 million pounds a year. They are very versatile vegetable packed with many essential nutrients.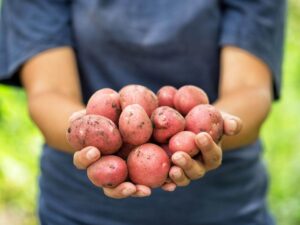 Health and Wellness Benefits
Red potatoes have many health benefits. They are high in potassium, Vitamin C, and Vitamin B6. Red potatoes are actually higher in potassium than bananas. Potassium is important for our body to maintain fluid levels within our cells, contract muscles, and support normal blood pressure. Vitamin C is important for our body to absorb and store iron, form blood vessels, cartilage, muscle and collagen in bones. The other vitamin that red potatoes contain high levels of is Vitamin B6. Vitamin B6 is essential for keeping our nervous and immune systems healthy and functional.
Red Potato and Egg Salad, Taste of Home. 2/3/2023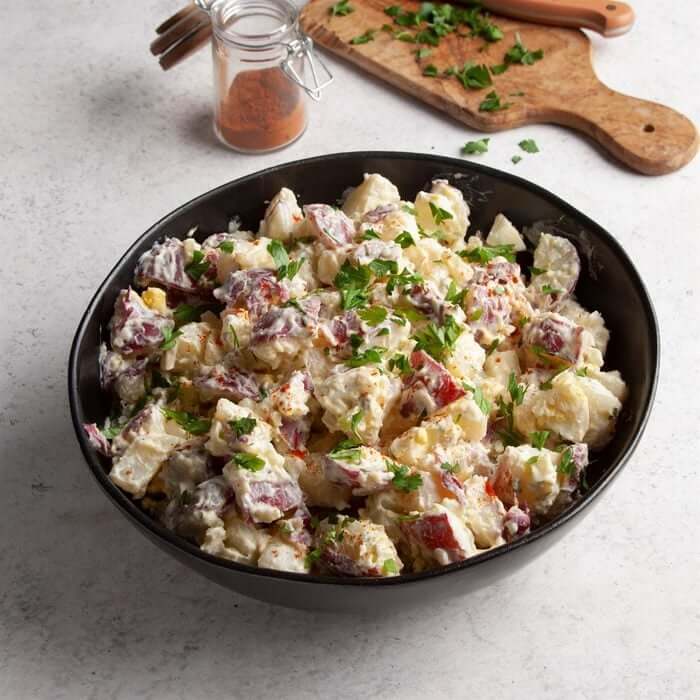 Ingredients
5 pounds medium red potatoes, halved
 5 hard-boiled large eggs, chopped
 1 celery rib, finely chopped
 1/2 medium onion, finely chopped
 1-1/2 cups mayonnaise
 1/4 cup sweet pickle relish
 3 tablespoons sugar
 2 tablespoons dried parsley flakes
 2 teaspoons prepared mustard
 1 teaspoon salt
 1 teaspoon cider vinegar
 1/8 teaspoon pepper
Directions
1. Place potatoes in a large kettle; cover with water. Bring to a boil. Reduce heat; cover and cook until tender, 15-20 minutes. Drain and cool. Cut potatoes into 3/4-in. cubes.

2. In a large bowl, combine the potatoes, eggs, celery and onion. In a small bowl, combine the remaining ingredients. Pour over potato mixture and stir gently to coat. Cover and refrigerate for 6 hours or overnight.