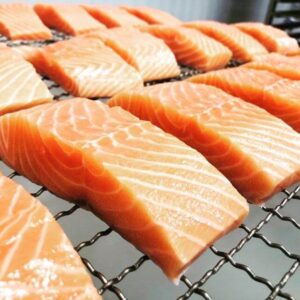 Take a splash in some great savings today and visit your Mackenthun's Seafood and Meat department.
Verlasso Salmon is your Dietitian's Choice this week for $9.99 per pound from May 5th to May 11th. 
Exploring the Salmon Industry
Verlasso Salmon is a farmed salmon from Chile. Their fish is a type of Atlantic salmon.
When Atlantic salmon is sold in supermarkets, you may occasionally see them tagged as "farm raised". All Atlantic salmon sold in supermarkets are going to be farm raised.
According to the National Oceanic and Atmospheric Administration, Atlantic salmon which is found on the oceans near the New England, wild Atlantic salmon is illegal to fish due to their current endangered species status.
Wild salmon is sold in supermarkets and are usually caught from lakes and rivers in the United States. Common varieties include sockeye salmon and Copper River salmon.
Atlantic (Farmed) Salmon versus Wild Salmon
Atlantic salmon and wild salmon have characteristic variations.
Atlantic salmon
Pink color related to beta-carotene, a type Vitamin A
Higher levels of omega-3s in the form of DHA and EPA
Requires higher heat for cooking
Mild, lighter fish flavor
Less smell
Wild Salmon
 Bright orange or red due to Vitamin B12 and 
Stronger fish flavor
Stronger smell
Higher in selenium to support thyroid health
Lower in omega-3s in the form of DHA and EPA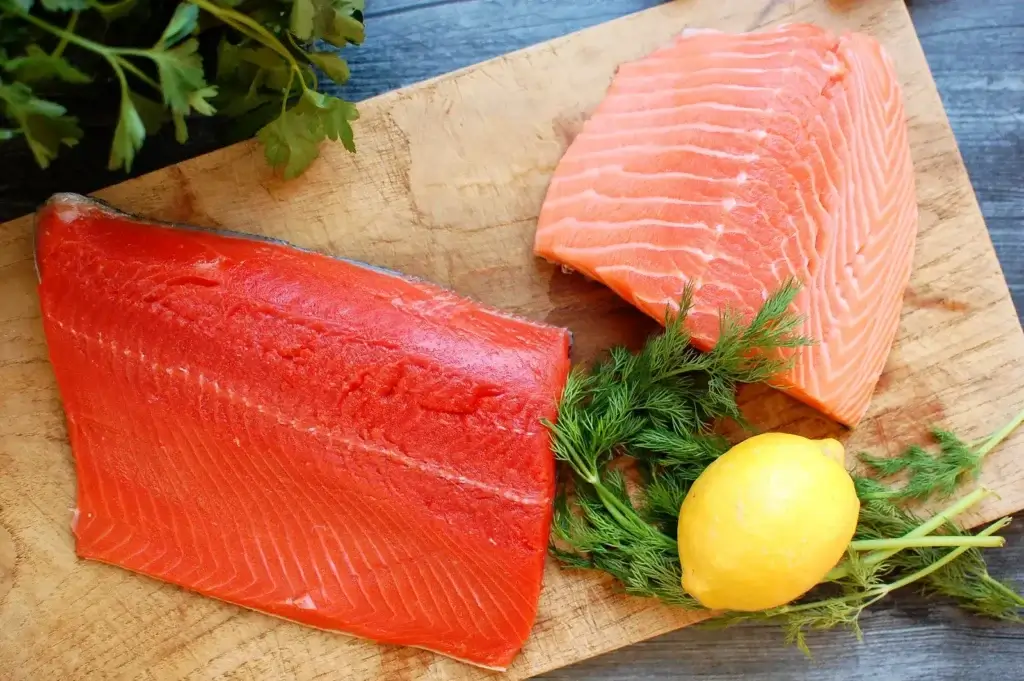 Why is DHA and EPA Important?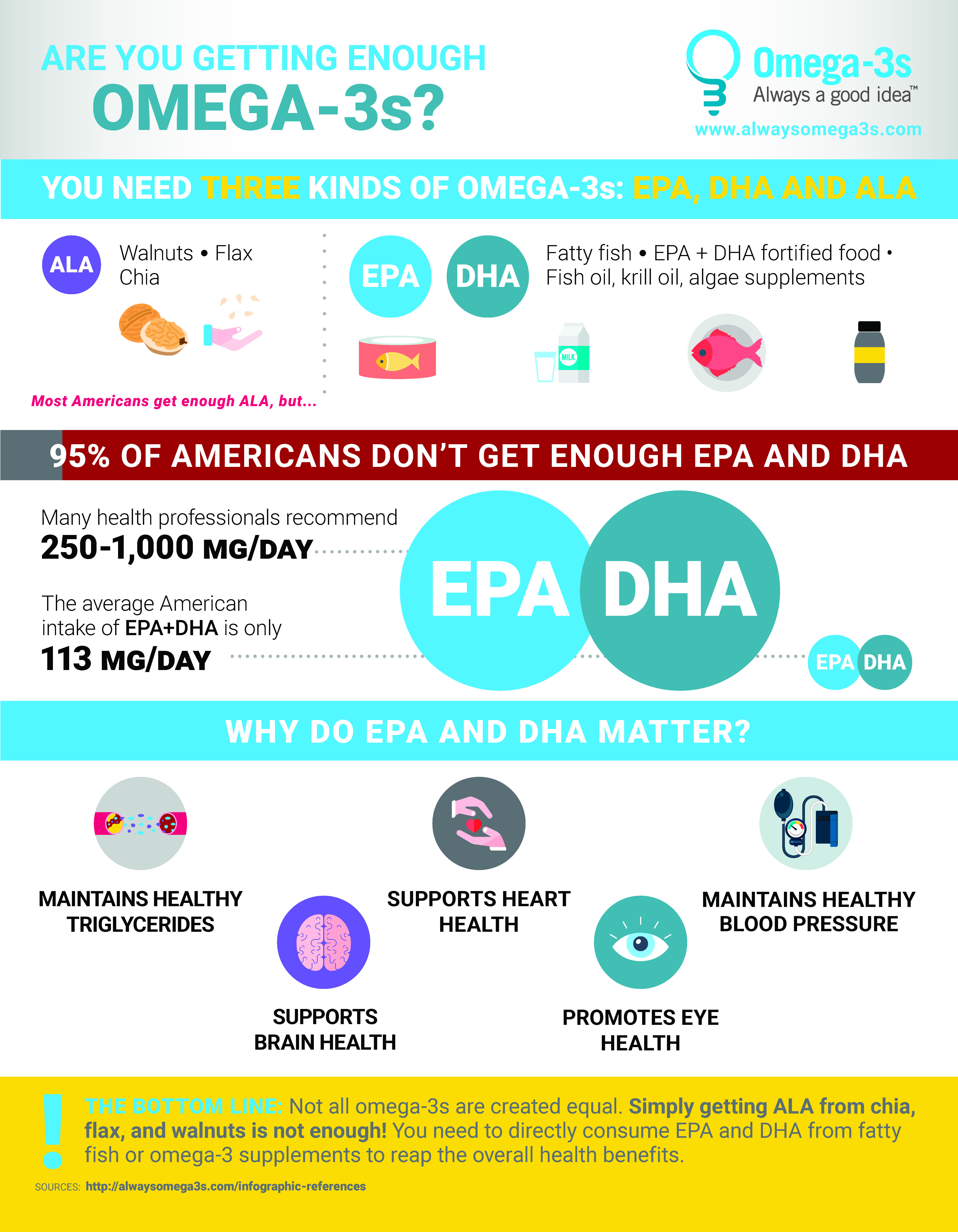 Omega-3 fatty acids in the form of DHA and EPA only come from seafood sources including algae, seaweed, and krill products. 
Not only does DHA and EPA support the health benefits as outlined in the diagram to the left, they also –
reduce inflammation which helps improve blood flow for oxygen and nutrient delivery
reduce insulin resistance to support blood sugar maintenance 
support weight management goals by aiding in brown fatty tissue (mostly around abdomen) to increase metabolism of food into heat and energy
Most Americans consume more ALA, another type of omega-3 fatty acids. Though it is recommended to consume adequate amounts of ALA, mostly from plant sources like walnuts, cooking oil, and hemp, it is convered into DHA and EPA by our liver in very small amounts. 
Approximately less than 10% of our ALA consumed is converted into EPA and only less than 5% into DHA. 
Tuscan Butter Salmon by Lauren Miyashiro, DELISH, 3/2/2023, https://www.delish.com/cooking/recipe-ideas/recipes/a58412/tuscan-butter-salmon-recipe/
Ingredients
2 tbsp. extra-virgin olive oil
4 (6-oz) salmon fillets, patted dry with paper towels
Kosher salt
Freshly ground black pepper
3 tbsp. butter
3 cloves garlic, minced
1 1/2 c. halved cherry tomatoes
2 c. baby spinach
1/2 c. heavy cream
1/4 c. freshly grated Parmesan
1/4 c. chopped herbs (such as basil and parsley), plus more for garnish
Lemon wedges, for serving (optional)
Directions
In a large skillet over medium-high heat, heat oil. Season salmon all over with salt and pepper. When oil is shimmering but not smoking, add salmon skin side up and cook until deeply golden, about 6 minutes. Flip over and cook 2 minutes more. Transfer to a plate.
Reduce heat to medium and add butter. When butter has melted, stir in garlic and cook until fragrant, about 1 minute. Add cherry tomatoes and season with salt and pepper. Cook until tomatoes are beginning to burst, then add spinach. Cook until spinach is beginning to wilt.
Stir in heavy cream, Parmesan, and herbs and bring mixture to a simmer. Reduce heat to low and simmer until sauce is slightly reduced, about 3 minutes.
Return salmon back to skillet and spoon over sauce. Simmer until salmon is cooked through, about 3 minutes more.
Garnish with more herbs and squeeze lemon on top before serving.