Join our hardworking, enthusiastic, creative, and passionate team!
We have a variety of opportunities to further your career, whether you are looking for your first job, a part-time job, or a career.
When you join the Mackenthun's team you become part of our family and the community we serve.
The Mackenthun's Experience is a celebration that strives to enrich and support our local communities, delivering a consistent experience across all channels while empowering and engaging employees.
Together We:
Build Relationships
Provide Fair and Honest Treatment
Create Memorable Moments
Encourage Health and Wellness with Indulgence
2021 MOHR Outstanding Disability Employer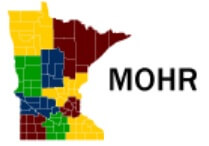 With high quality deli, bakery and meat departments, Mackenthun's grocery has worked with MRCI clients for many years, said Lisa Cownie…
Administration (Accounting, Human Resources, Marketing, Store Director)

Caribou

Deli

Bakery

Meat & Seafood

Center Store (Dairy, Frozen, Grocery)

Personal Shopper

Customer Service

Overnight: Stock Clerk, Donut Fryer

Pricing

Produce


Floral

Dietitian

General Merchandise & Health and Beauty Care
Pharmacy
Still have questions? We're happy to help!
You can reach our Waconia Customer Service at (952) 442-2512.